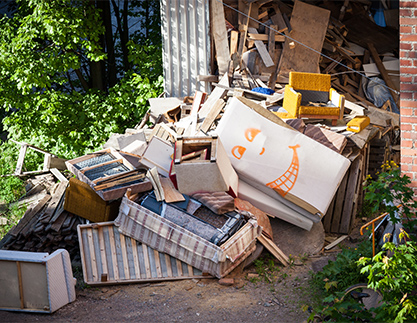 Junk Removal
At some point in their lives every person you know has things they need to get rid of that are too big, heavy and cumbersome to dispose of themselves. At Cleanouts & More, we pride ourselves on making the removal of old unwanted furniture, washers, dryers and other appliances quick and easy. No need for you to haul it to the street. We can come inside and carry it out for you. And we always wear a mask and we take care to protect your home.
Yard Waste
For those in business, we offer office cleanouts, restaurant cleanouts, hotel cleanouts and construction clean ups.
Hot Tubs, Swing Sets and Above Ground Pools
Sometimes you have even bigger projects, and you don't know who to call. For instance, you have an old hot tub, swing set, to haul away. Trying to disassemble these yourself is a real hassle. We can do it for you and haul it away. No problem.
Decks, Fences and Sheds
Are you looking to remove an old deck or shed? We can break them apart and haul them away for you while you enjoy the comfort of your own home. One of the biggest problems' homeowners have is when they decide to have an old fence removed. Many companies will haul an old fence away, but very few of them will knock it down and if needed pull the concrete under the posts up and out of the ground too. No problem. We will tear down the fence, pull out the concrete and haul it all away for you.
Demolition
If you are considering remodeling rooms in your house, we can help. We can demolish old kitchens, bathrooms, sheetrock, drywall. We can also take care of removing old sheds, decks, dilapidated above ground pools and more… and then haul all the debris away while you relax.